5 Late-Night Eateries to Satisfy those After-Hours Munchies
Sometimes, no matter how much you eat at dinner, your stomach still starts grumbling at 9 o'clock – and if you're on holiday, shouldn't you be indulging yourself? Fortunately, in Malta, indulgence is a way of life; if you don't take our word for it, then just visit a Maltese festa and get the story from the horse's mouth. The Maltese love to eat, and if you're in Rome, as they say, then do as the Romans do, and populate your days around food: a hearty breakfast, a good lunch, a big dinner, and then if you're not satisfied, late-night snacks. While the Topaz Hotel offers room service, and an expansive menu, sometimes the heart wants what it  wants, and chances are, what the heart wants can definitely be acquired somewhere in one of the restaurants in St. Paul's Bay.
Fancying a kebab, or a spicy curry? Are you more in the mood for a gut-filling fish and chips, complete with creamy tartare sauce? Maybe you're looking for something more traditional – a pizza made with love by a pizzaiolo with years of experience? What about if you're looking for dessert? Malta has its pick of ice-cream places, but what's the best late-night ice-cream face to banish that sweet-tooth craving for good? And if you're not a fan of ice-cream, then where do you go to get a dessert that you can really sink your teeth into?
St. Paul's Bay has all these options, and more – it's just a matter of finding them, and that could be complicated if you're not used to living in the area, however, if you're not sure where to go to appease your grumbling stomach, we've covered five places you shouldn't miss eating at in St. Paul's Bay, no matter what time of the night it is!
1. Sottozero
It might take hours for your stomach to stop grumbling and let you sleep, but it only takes a ten-minute walk to amble from the Topaz Hotel to this little hole-in-the-wall gelateria and get yourself a scoop or four of their delicious, Italian-original gelato! But be warned: once you have one flavour of SottoZero, you'll want to sample them all, and with 115 flavours in total to deliberate over, you might be there a while. Featuring classic flavours such as chocolate and coconut, and out-there flavours such as New York Cheesecake and Maracuya, Sottozero even caters for people with food intolerances. Their lactose-free options are heavenly for people who can't have dairy, and if you're allergic to nuts or to anything else, the well-versed staff can make a recommendation to suit your palate and your dietary requirements all in one go. For an economical ice-cream delight, we recommend their €5 Maxi Scoop, with a choice of four different flavours to mix and match.
Sottozero has been on the island since 2006 and has moved from accolade to accolade, developing new and exciting flavours for the Maltese islands. They've been 'the' name for ice-cream ever since the first scoop of traditional Italian gelato was poured into a waffle cone. However, they have more than just gelato – if you're not a fan of ice-cream, then try one of their crushed-ice granita or a decadent juice. However, their ice-cream is the driving force for most people on the island, with an average of 1200 cups per day of ice-cream sold.
2. Con Gusto
On the surface, this little gelato place doesn't look like anything special: it's small and quiet, well-lit, and clean, and easily missed if you're not looking for it. We're telling you now – look out for it. If the amazing home-made gelato doesn't tempt you, Con Gusto also offers fresh-made pastries and Sicilian treats to enjoy after a long day of touristing around. Want something a little bit warm? Try the crepes with a side of their smoky cappuccino.
Besides the delectable food, the family-restaurant atmosphere at Con Gusto makes this cosy eatery the perfect end to a long day; who doesn't like sweets after visiting Maltese landmarks and working up their appetite with a seaside walk? If you're not in the mood for a sweet dessert, then Con Gusto also has Sicilian savouries to sample, and the staff will be happy to illuminate on what would best fit your craving – no matter what that craving is, or how hungry you are!
3. oz Sofra
Since 1999, oz Sofra has been delighting the Maltese islands with its take on Turkish food, featuring fresh-off-the-grill, made-to-order meat and slow-cooked rotisserie culinary pleasures drowning in flavour. Nothing hits the spot at night more than a doner kebab, and oz Sofra lets you customise your order with a choice of meat and two salads. The pita is fresh-made and crisp, and if you think you won't be full with the gigantic doner, take a look at their sides! Best of all, oz Sofra is open until 4am every day, proving there's no time too late to have Turkish food in Malta.
oz Sofra is the epitome of late-night pleasure food: when the day is nearly over, but you're still craving that something savoury, something salty, something sweet kind of food, oz Sofra is open and waiting for your custom. The food is the perfect combination of tastes for any palate, and hits the spot, every time. The amazing value is only an added benefit – a full meal at oz Sofra won't cost you much, and with the flavour that you get in return, is well worth the price.
4. Made in Sud
You can't go to Malta and not try the pizza – it's a tragedy! Pizzerias in Malta are cheek-by-jowl with each other, but if it's late at night in St. Paul's Bay and you're craving the flavours of Sicily, Made in Sud should be your first and only stop. Rosario, the Made in Sud chef, infuses his food with the flavours of his home-land, and makes every bite a dream of the south of Italy. Alongside regular pizzas such as margherita and quattro formaggi, Made in Sud also offers dessert pizza, speciality pizza, and even a 'surprise pizza' option!
Worried that a pizza alone won't hit the spot? Made in Sud also has cold plates and hot starters on offer, with delicacies such as fried arancini, spicy chicken wings, and breaded anchovies to go along with the doughy delights on offer. If you're on a diet and don't want to partake in the pizza, Made in Sud also offers healthier options such as salad or pasta.
5. Granny's Fusion
If you can't really decide what you should eat, there's really only one option you should consider, and that's Granny's Fusion restaurant. It features everything – and when we say everything, we mean everything, starting from omelettes, burgers, and chips, to tongue-searing Indian dishes and grandma-approved fish and chips.
Granny's Fusion opened on the island nearly 30 years ago, and splits its menu between continental food and Indian food, each with a dedicated chef to make sure that the client gets the most authentic dining experience on the island. Their continental menu features old-favourite classics such as fresh, seasonal fish, burgers, chicken wings, and also manages to be one of the heartiest places on the island for a full English breakfast. Granny's Fusion also offers a variety of meat dishes, including pork and lamb, as well as a selection of Italian pastas and Maltese traditional food.
If you're in the mood for something with a little bit more of a kick, however, Granny's Fusion has an impeccable selection of Indian dishes, from fresh-baked naan and crispy vegetable samosas to creamy, thick kormas and spicy vindaloos. A late-night curry is the ideal midnight snack, warm enough to make the walk back to the hotel a pleasure and heavy enough to keep you sleeping until breakfast the next day – no more grumbling stomach!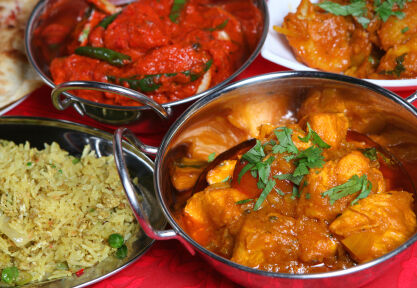 Restaurants in Malta typically open from 6 o'clock to 10 o'clock at night as a standard, and so finding restaurants open past those hours is a rare achievement – however, St. Paul's Bay has a reputation as a tourist town, and so establishments are quite frequently open at hours where other places would not be, allowing for diners seeking food to take their pick of restaurants in the village. Coupled with the brisk seawater air, and the atmospheric surroundings, St Paul's Bay is the ideal location for holidayers who want to have their choice of multiple cuisines at the drop of a hat. The diversity in food choices makes it easier for people to find what they want to eat, whether they're craving something comforting, like a thick-cut burger or a giant slab of fish and chips, or something more exotic, like a doner kebab drowned in sauce.
There's really no shortage to the late-night places open at St Paul's Bay, and the Topaz Hotel's central location means that you can dine at a different place every night, if you so choose! For more information about what you can find around the Topaz Hotel, see here!